Huawei has been making laptops for a mere six years, but has already made significant inroads into a crowded market. And there's no sign of the company slowing down any time soon. A month after they were revealed in China, two new 16in laptops have officially launched in Europe. The updated MateBook 16 D swaps AMD for Intel, but the brand-new MateBook 16s is the one to get excited about.
It's Huawei's most powerful laptop to date, equipped with performance-focused CPUs from Intel's latest 12th-gen range. You can choose between Core i5-12500H, Core i7-12700H and, at the top end, the Core i9-12900H. There's also 16GB of DDR5 RAM and 512GB or 1TB of SSD storage.
Everyday performance will be excellent as a result, but that doesn't make it a great option for everyone. The MateBook 16s uses Iris Xe integrated graphics rather than a discrete GPU, so if gaming's your top priority it's worth looking at a dedicated gaming laptop.
Huawei is in the process of abandoning its unflattering webcams, which were previously hidden under the keyboard, and the MateBook 16s puts the camera where in its natural position above the display. It's a 2Mp, 1080p camera with an 88° field of view, and there are dual microphones too. More importantly, the so-called Smart Conference camera has a feature called Eye Contact that makes it look to others on a video call that you're looking at them rather than the screen below the camera. And with Sound TrueVoice, background noise is reduced and makes your voice clearer.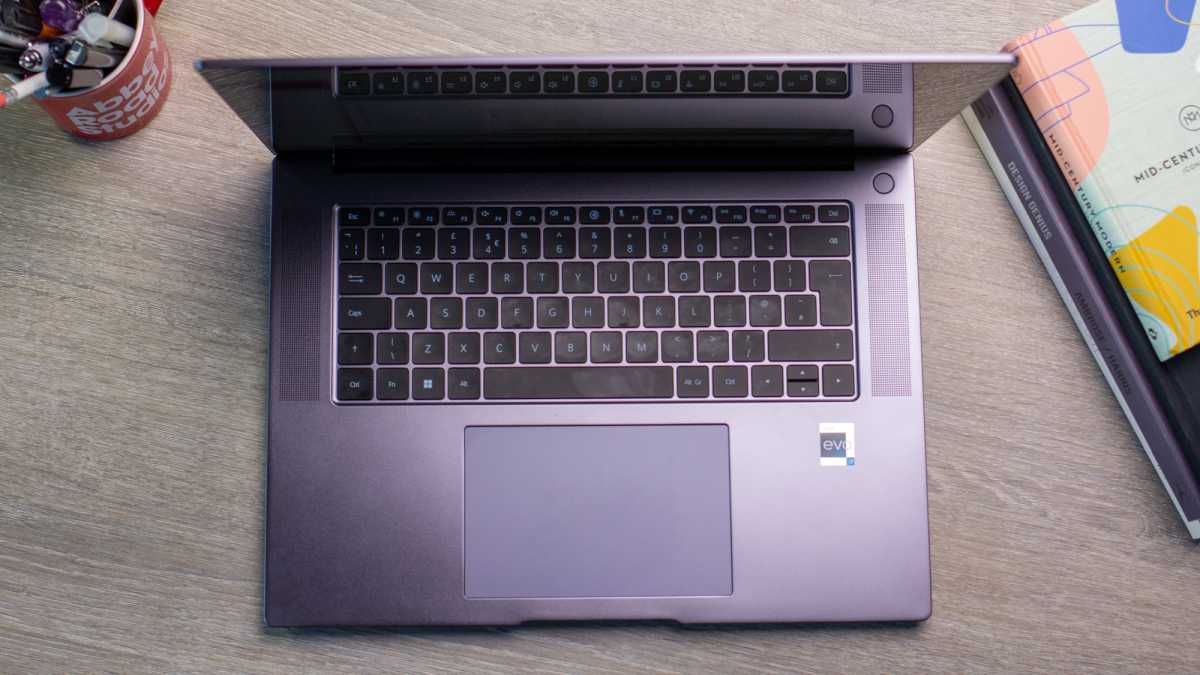 Dominic Preston / Foundry
The 16in display is an LCD panel rather than OLED but has a high resolution of 2520×1680. A slim bezel gives the device a 90% screen-to-body ratio, but Huawei advertises just 300 nits of max brightness. That's not going to be much good if you want to use the MateBook 16s outside.
A generous 84Wh cell means battery life should be lengthy, and there's a 90W adapter in the box for what Huawei calls fast charging. That uses one of two USB-C ports (one supports Thunderbolt 4), but there are also two USB-A ports, full-size HDMI and a 3.5mm headphone jack. A fingerprint sensor is built into the power button, but there's no IR sensor for Windows Hello face unlock.
You can read our full review of the MateBook 16s.
Price & release date
The MateBook 16s goes on sale in the UK on 13 July, and will be available from Huawei's website. This is the Core i7 model, and it costs £1299.99 (around $1599, but as with all Huawei laptops, unlikely to ever be sold in the US). It's not yet clear when the laptops will be available to buy in Europe.
You can pre-order a MateBook 16s immediately, and doing so will get you a free Huawei MateView monitor, while stocks last. If you don't pre-order but buy a 16s between 13 July and 23 August, you'll get a free Huawei MateView GT 27 monitor.
If you want the Core i9 MateBook 16s, that costs £1499.99 (around $1850) and will go on sale mid-August 2022. It will be sold on Amazon UK, AO.com, Argos, Currys and the Huawei Store.
Again, you will be able to pre-order this model – between 13 and 26 July – to get a free MateView monitor.
MateBook D 16 (2022)
If you are willing to make compromises for a lower price, the updated MateBook D 16 could be for you. It's a step down from the MateBook 16s in some areas, but a big step up compared to last year's original.
Anyron Copeman / Foundry
That device was equipped with CPUs from AMD's Ryzen 4000 range, which is now two generations old. Instead, its successor uses the latest 12th-gen Intel CPUs, also from the performance-focused H-Series. You're limited to i5 or i7 here, alongside 8- or 16GB of DDR4 RAM, while a 512GB SSD is your only storage option.
The webcam has returned above the display here too. It's also a 1080p sensor, with the 16in LCD display below at a lower resolution of 1920×1200. You also get the same range of ports as the 16s within a 1.7kg chassis.
Price & release date
The MateBook D 16 goes on sale in the UK the same day as the 16s: 13 July, from Huawei's online store as well as 'selected retailers'.
The Core i7 model costs £999.99/€1,299 (around $1200) and the i5 version is £749.99/€1,299 (around $900).
If you pre-order between 29 June and 12 July, you will get a free MateView GT 27 monitor.
MateBook D 14 (2022)
Huawei didn't spend long talking about the new MateBook D 14 at its Berlin launch event, and with good reason. There's only one upgrade compared to last year – a move to Intel 12th-gen CPUs. You can choose between i5 and i7 here too, albeit from the less capable P-Series.
They help power a 14in, 1920×1080 LCD display. Huawei advertises full coverage of the sRGB colour gamut, but like all the new laptops you're limited to 60Hz. Other features of note include a 56Wh battery and decent port selection, consisting of 2x USB-C, 2x USB-A, HDMI and 3.5mm headphone jack.
Price & release date
The MateBook D 14 arrives a bit later than the other laptops. Huawei has only committed to August as the month you can buy one, but that might just be pre-orders.
It starts at €849 for the i5 model, but stepping up to the i7 version will cost you €1,099.
Don't want to wait for any of the new MateBooks? These are the best laptops you can buy right now.