If you're wondering why your laptop will happily charge from some USB plugs but not others, the answer is USB-C Power Delivery. We've rounded up some great examples you can buy right now.
It's not quite as simple as searching for a charger with Power Delivery (PD) support, however. While some laptops will charge from a 30W adaptor, others require significantly more power. These chargers range in output—up to 200W total—so to find a compatible device you really need to know what is required by your particular model of laptop.
If you're looking to fast-charge a smartphone that promises charging of, say, 65W, do note that many third-party Power Delivery chargers will not support protocols such as PPS (Programmable Power Supply) or SCP (Super Charge Protocol) that is required by proprietary fast-charging standards. You can expect 18W charging from such devices, regardless of the theoretical output of the USB-C port.
While there undoubtedly cheaper chargers out there, the risks of dangerous over-heating—inherent in chargers—are reduced by picking a premium brand, which make the recommended chargers we have tested here. Our favorites are Anker, UGreen, Satechi, Hyper, Syncwire and Alogic.
Best USB-C PD Laptop Charger Reviews
1. UGreen 65W USB-C Charger – Best overall USB-C wall charger
Pros
Excellent value
Compact design
Two PD outputs
Supports PPS, Quick Charge 4
Cons
Some large laptops require 100W
With 65W potential, this ultra-compact USB-C wall charger can power most mid-sized laptops, although larger notebooks may require a more powerful 100W charger.
It has two USB-C PD ports, and when using both it can power at 45W and 20W so could fast-charge your phone while keeping a laptop ticking. It supports Power Delivery 3.0, PPS, and Quick Charge 3.0 so is speed-ready for most devices. Owners of phones with an old-style USB-A charging cable may need to buy a new cable with USB-C at one end.
It's also competitively priced for a 65W charger, supports international voltages and, because it uses GaN tech, it's a diddy little thing for such a powerful device, especially the UK version.
Unless you need additional USB ports or 100W, we really can't see how you'd be better served by another Power Delivery charger.
2. UGreen Nexode 100W USB-C Charger – Best 100W USB-C charger
Pros
Two 100W USB-C PD outputs
Versatile with four outputs
Good value
Supports PPS, Quick Charge 4
Cons
Heavy
Sticks out from wall some distance
This UGreen device is an absolute beast of laptop charger, and it's now finally available in the UK.
We tested the UK three-pin model, which has a slightly different design to those available in the US and EU—necessarily so, because the elongated design and sheer weight (268g) of this thing would likely have trouble staying attached to the wall without that third prong to steady itself. Those models have a taller, more rectangular design, with folding plugs to make them more compact for travel, but the core specs are otherwise the same.
Actually we quite like the design, and it feels much better made than some cheap plasticky chargers. There are no angular edges here, with every line smoothed out and rounded to soften its appearance. The outer casing is a matte gun-metal grey, and all the necessary tech specs are hidden out of sight where the adaptor plugs into the wall. It's not overly bulky, despite its weight, thanks to the GaN tech inside.
But it's really not about what it looks like; it's about what it does—and this UGreen GAN X 100W adaptor has some serious power behind it.
There are four USB ports in all—three USB-C and one full-size USB-A—two of which support a 100W output, with the other two rated at 22.5W. There's a maximum power output of 100W, which means when you use more than one port the power rating will be reduced, but it's still possible to get up to 65W on either of those two 100W USB-Cs.
This UGreen adaptor supports multiple charging protocols, including Power Delivery 2.0 and 3.0, Quick Charge 4+ and PPS, and it will work with pretty much any device that charges over USB.
Note that you can purchase this adaptor with or without a USB-C cable. If you are buying one separately or providing your own, you'll need to make sure it is capable of carrying up to 100W.
3. Anker Nano II 65W GaN II PPS Fast Charger – Best small 65W USB-C charger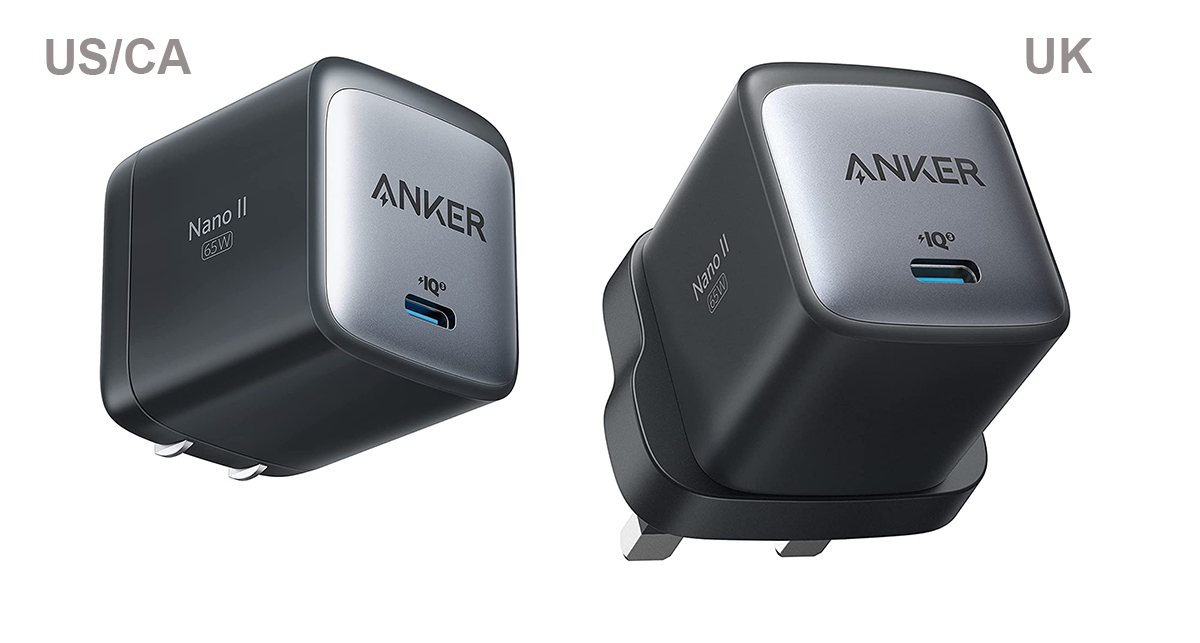 Pros
Reliable brand
Super-compact
Supports PPS, PowerIQ
Anker is perhaps one of the best-known names in charging tech, and this single-port PD charger is attractive to us for several reasons.
Gallium Nitride (GaN) technology has made chargers a fraction of the size of silicon-based models only a couple of years old, and once considered small themselves.
Anker's new Nano II chargers utilise next-generation GaN II tech that transmits energy more efficiently and operates at twice the frequency of the first generation of GaN—making these chargers even smaller.
We haven't seen PD chargers this small before. They are tiny—about the size of Apple's weedy 5W iPhone charger but over 10x more powerful. The 65W Nano II charger weighs just 132g and comes in at 41.7-x-36-x-44mm. The US version features neat foldable pins.
Moreover, they support not only Power Delivery, Quick Charge and Anker's own PowerIQ smart charging, but also PPS. This means it stands out among other third-party adaptors in its ability to fast-charge smartphones such as the Samsung Galaxy S20 that require the Super Fast Charging protocol for their proprietary charging standards.
On the downside, there is only one output, which means you can charge only one device at a time and it'll need to support USB-C.
There are also smaller, cheaper 30W and 45W options are available in the US and UK Anker stores.
4. Anker PowerPort III 65W – Best USB-C PD travel charger
Pros
Interchangeable plugs for international travel
Three USB outputs
Anker's PowerPort III is interesting for two key reasons: first, it has three outputs (one 45W USB-C PD, and two full-size USB-As), which makes it super-versatile; and, second, supplied in the box are interchangeable plugs for the UK, US and Europe, making it an excellent travel charger.
This is another GaN charger, which means it is delightfully small for a device that is potentially going to be consuming suitcase room.
With a 45W maximum output for the PD port, do double-check this is sufficient for your laptop before you buy. It's also worth pointing out that unlike some of Anker's other adaptors, which support the PPS protocol required by some devices for their proprietary fast-charging standards, this one does not.
It does support PowerIQ, however, which is Anker's own intelligent device-detection tech, able to adjust the output for optimal charging of the connected device.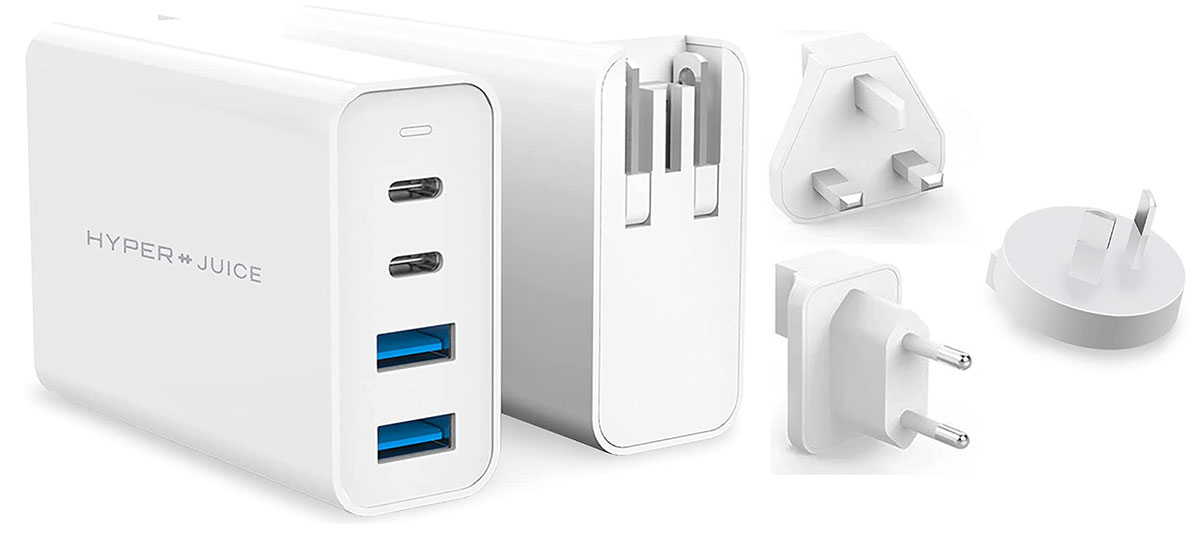 Hyper
For a more powerful alternative, see the Hyperjuice GaN 100W USB-C Charger that also includes a set of travel plugs (US, UK, EU, AU). At 100W (PD 3.0), it's enough to full-speed power-up a large, top-end laptop plus other devices. There are two 100W USB-C power ports, and two 18W QuickCharge 3.0 USB-A ports, which should be enough to charge most of your devices out of one charger. You could charge a laptop, tablet, and a couple of phones at the same time. Priced at $99.99/£99.99, it's available from Hyper or Amazon.
5. Syncwire PD 30W USB-C Charger – Cheapest USB-C wall charger
Pros
Unbeatable value
Compact design
Supports PPS
Cons
30W not enough for all laptops
Only one port
This 30W Power Delivery charger from Syncwire keeps things simple with a single USB-C output for charging your phone, tablet or—potentially—laptop.
There's support here for PPS, but it's worth pointing out that 30W is not enough to charge all laptops, so do check your spec to see if it's appropriate before you buy. It should be plenty for a MacBook Air, but perhaps not some of the more powerful laptops.
If it's powerful enough for your needs, this is a really appealing device—significantly more affordable than other devices in our round-up, and thanks to GaN tech it has a sleek, compact design that is easily portable. We like the smooth, rounded corners, and the tiny LED that sits just above and lights up the USB port when in use.
We tested the three-pin UK version of this plug, but a two-pin variant is also available.
6. UGreen Nexode 200W USB-C Desktop Charger – Best desktop USB-C power charger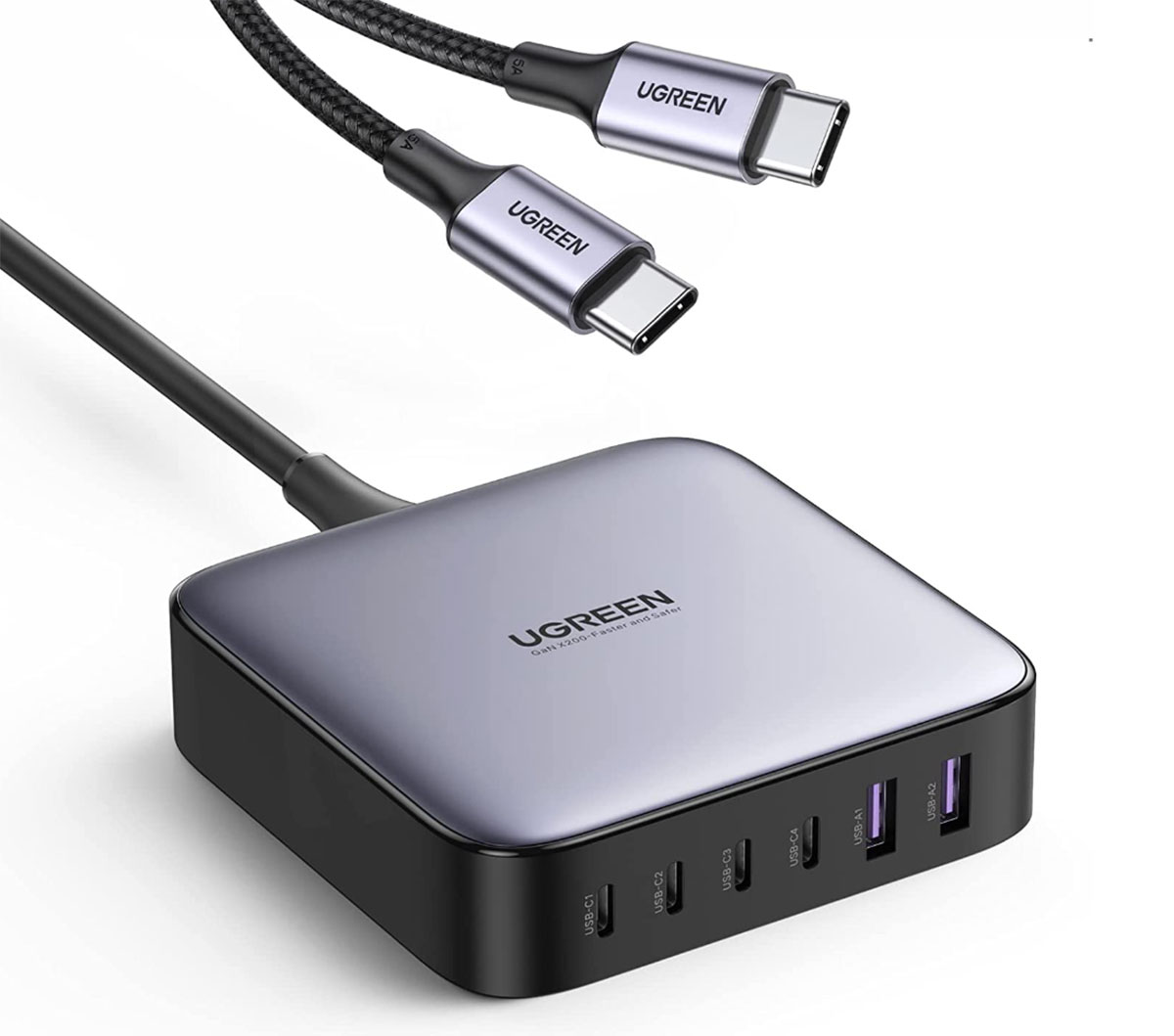 Pros
Massive 200W charger
6 ports
Supports PPS
Comes with braided cable
The Ugreen Nexode 200W USB C charger allows you to charge six devices at the same time, and so avoid having to plug in multiple chargers for the task and free up space on your desktop. While it's too heavy to be truly portable, it is a super-compact size for so many ports.
Boasting four USB-C ports and two USB-A, it can supply up to 200W of power, and therefore could charge three mid-sized laptops, a couple of phones, and your headphones simultaneously.
The charging options are too numerous to list here, but with six devces charging at the same time, you could have one at 65W, two at 45W, one at 20W, and the two USB-A ports sharing 20W.
It is compatible with both iPhone and Samsung Fast Charging.
7. Nekteck 107W USB-C Charger – Best value desktop USB-C charger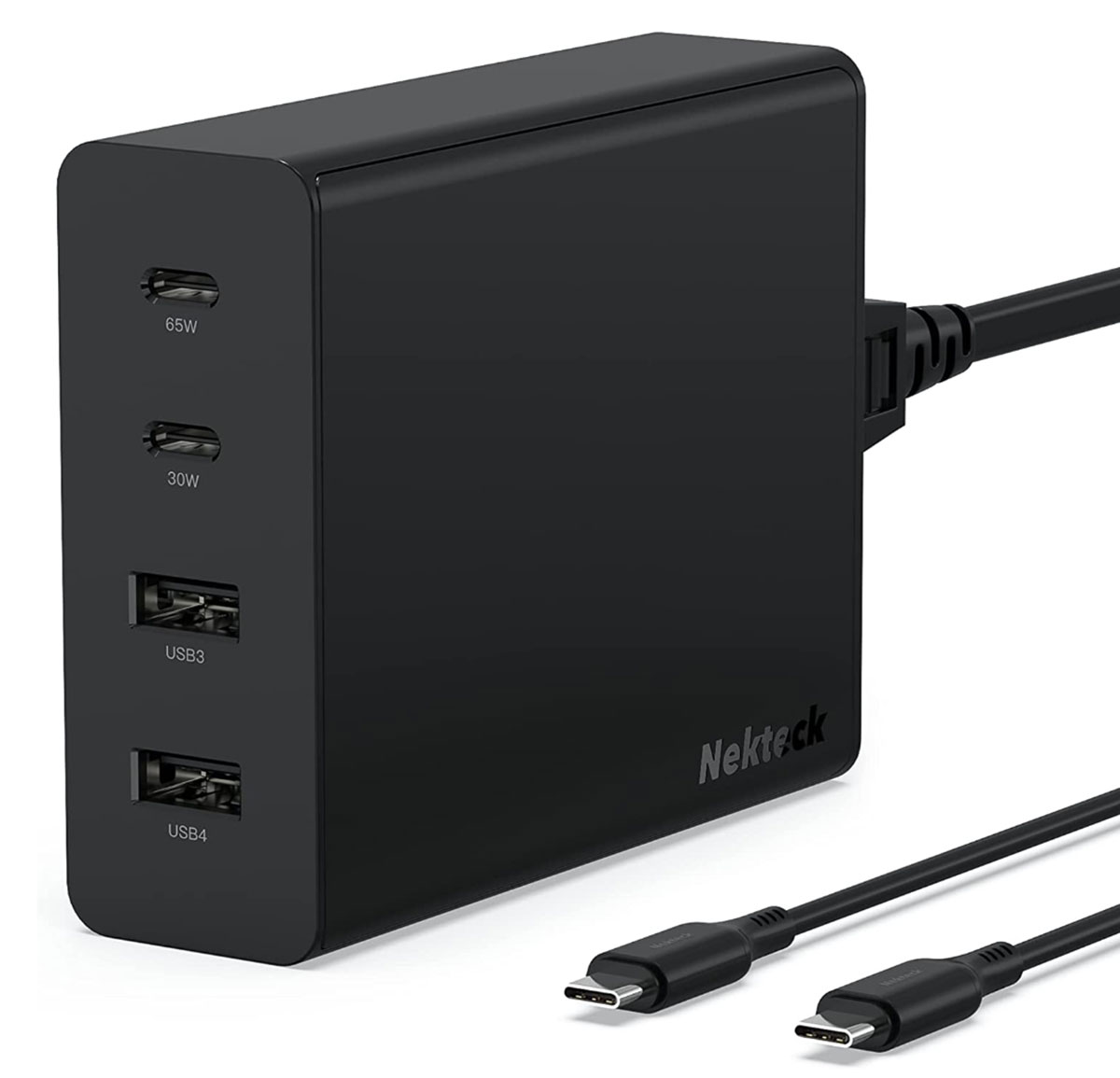 Pros
4 USB outputs
87W PD
Ideal for desktop use
100W USB-C cable in box
Cons
No Quick Charge/PPS support
Messy rear design
This is a slightly different breed of charger than those we've discussed so far in this group test, and is what we call a desktop charger. Rather than hugging the power socket, it has a 1m extension cable that lets you plug it into the wall but bring the USB outputs themselves up to a more accessible area on the desk.
It has four USB outputs in all, making it an ideal device if you have multiple devices to charge. However, not if you have multiple laptops to charge…
There are one 65w USB-C Port, one 30w USB-C port and two 12W USB A ports for simultaneous charging of laptop, tablet, phones and other devices. Four of these five ports are full-size USB-As, rated at 12W. The device's maximum output with all ports in use is 107W, which means you can't run them all at full power at once.
Yet we are drawn to the versatility of this desktop charger, with its 65W output enough for most mid-sized laptops. We're impressed to find a 100W USB-C cable is provided in the box, as this will be required to fully utilise that output.
Sadly, this particular model is not currently available in the UK, where we would recommend the Satechi 75W Dual USB-C PD Charger (see below) or more powerful Satechi 108W Pro USB-C PD Desktop Charger.
8. Zendure Passport III – Best compact travel USB-C PD charger
Pros
65W output
Supports six devices
Supports PPS
Works as a travel charger
Cons
Currently available only on Kickstarter
Not shipping until April
The Zendure Passport III is a compact GaN charger that caps out at 65W, but makes up for it with plenty of ports and the fact that it doubles as a travel adapter—plus a range of snazzy gradient finishes.
The main USB-C port supports the PD format at up to 65W, and PPS charging at up to 45W. For slower charging, you'll find an additional three USB-C ports and one USB-A port, which go up to 15W speeds.
What's handy is that in addition to all those USB ports you can also use this as a travel adapter. Sliding connectors will fit into US, European, Australian, and British wall sockets, and you can plug a similar range of plugs into the Passport III from the other side.
9. Alogic 100W 4-Port PD USB-C Wall Charger – Best USB-C and USB-A desktop charger
Pros
100W
4 ports
Comes with 2m braided cable
The Alogic 100W Rapid Power 4-Port USB-C GaN Charger is an affordable multi-port wall charger with: 1x USB-C at 100W; 1x USB-C at 18W; 2x USB-A at 12W.
Handily, it comes with a braided 2m USB-C cable but not travel pins like the Anker PowerPort III or Hyperjuice 100W charger.
And, as Alogic is an Australian company, it's one of the few USB-C PD wall chargers that comes with the option of an AU plug.
10. Satechi 75W Dual USB-C PD – Best USB-C and USB-A desktop charger
Pros
Multiple USB outputs
Nicely designed
Cons
Second PD port is low-power
Expensive
No PPS support
This Satechi's desktop charger has two USB-C Power Delivery ports and two USB-A ports—especially useful if you're travelling with more than one power-hungry USB-C device or a mix of USB-C and USB-A.
However, do note that one of the USB-C ports will charge at the full 60W and the other at a more sedate 18W (more than fine for a phone, but unlikely to be enough to power a laptop).
The two 12W USB-A ports are handy as most of us still have devices that require a charging cable connection into this old standard.
It is light enough for travel at just 214g.
A more mighty model, the Satechi 165W USB-C 4-Port PD GaN Charger, is a real power beast. For $119, it has two 100W-capable USB-C ports and two that can reach 60W—although max output is 165W, it's the highest of any of the chargers we have tested here. Understandably, despite being GaN it's bigger and heavier (12oz or 340g) than the 75W version.
How much power do I need to charge my laptop?
The easiest way to find out how much power is required to charge your laptop is to inspect the charger that was sold with it, if you have that to hand. Alternatively you can look for its specification on the manufacturer's website.
You're looking for a figure in Watts, although it may be expressed in Volts and Amps. If so, simply multiply these two numbers to get the figure you need. For example, a device that requires 12V/2A to charge will need a 24W USB-C PD charger (12×2=24).
Once you know what power rating you're looking for, finding a USB-C PD charger for your laptop or console is easy. Sometimes it can pay to get one a little faster than you need – it may be more expensive, but you'll be pleased you bought it if you later decide to upgrade your laptop.
Look out for newer GaN (gallium nitride) chargers that require fewer components than traditional silicone chargers, allowing them to be less bulky and also more efficient.
My laptop won't charge
The adaptor itself is only one piece of the puzzle, and the cable with which it is combined must also be capable of delivering the required amount of power. And these, frustratingly, come in all different types.
With Power Delivery now able to deliver up to 240W, the USB-IF group has implemented new 240W and 40Gbps certification logos in an attempt to take away some of the pain in working out the specifications of the various USB-C cables available to buy today, but even still the situation can be confusing. Read more about the differences in USB-C – and Thunderbolt – cables before you buy.
And don't skimp on the charging cable. Cheaper cables may well not support the same charging power as a quality cable: see our list of recommended cables below. Certainly the cable that ships with the charger should be capable of top speeds (with that charger) but often we pick up the nearest cable to hand.
We've put together a range of articles to help you choose the best charging tech for the mobile devices you carry everywhere. You'll also like: