With prices of HDMI cables varying enormously, you'd be forgiven for wondering whether it's worth spending more or just opting for the cheapest Amazon Basics cable.
Truth is, there are different HDMI standards with different features, specs, and variables. This means it can be worth spending more to get a more capable cable.
However, for most devices – TVs, games consoles, set-top boxes, and even some sound systems – there's no need to buy an 8K HDMI cable. A cheaper HDMI 2.0 cable that supports 4K up to 60fps is all most people need.
Of course, if you have a PS5 or Xbox Series X (or an Ultra-HD Blu-ray player) and a TV that's capable of 120Hz (twice the usual 60Hz), then you'll want to go for an HDMI 2.1 cable. These are also called 8K cables and can handle transfer speeds of 48Gbps – much more than the 18Gbps of standard 'High Speed' HDMI 2.0 cables.
It's worth knowing that HDMI 2.1 cables are backwards compatible, so will work when connected to HDMI 2.0 ports.
HDMI cable buying advice
Beyond knowing which standard you need, there are still choices to be made.
Design and durability are the main concerns. In terms of design, the main thing you should look for is that the cable head is slim – some TVs pack their HDMI sockets in pretty tightly, so avoid snazzy looking cables that might just block your other ports. You might also need a cable with a 90° connector at one end if there's limited room behind your TV, for example.
Durability will matter more or less depending on whether this is a cable designed for portable use, or just to sit behind your TV untouched. If you do need it to be durable though, look both for tough, braided designs and (just as importantly) flexible cable heads – this is the most vulnerable part of any cable, and a rigid design is much more likely to split.
Finally, think about length. Resist the temptation to buy ultra-long leads 'just in case'. Measure what you'll think you need and maybe go one size up just to be safe.
For TV use, HDMI cables don't usually need to be more than a couple of metres long, but it is possible to have a single cable up to 20m (65 feet) in length. If you need a cable over 15m (50 feet) long, it's worth going for a fibre optic HDMI cable for better reliability.
If you're buying for a Mac or PC, you will want to use a DisplayPort cable instead if your monitor can handle more than 60Hz or if it's particularly high resolution, but it's fine for most displays under 4K. You can buy adapters to convert DisplayPort to HDMI, but a DisplayPort cable provides a higher bandwidth than a High Speed HDMI cable, so you will run into problems if you exceed HDMI 2.0's maximum speed.
At short lengths of under about 5m, there aren't many reasons to spend a lot on an HDMI cable. Even basic cables have gold-plated connectors and – contrary to what some believe – there is no difference in picture or sound quality between HDMI cables. It's a digital connection, so the data either makes it from one end of the cable to the other, or it doesn't.
And if it doesn't, the picture and sound will break up in a very obvious way.
With that in mind, as long as you stick to a reputable brand, you can basically buy any cheap HDMI cable and you'll be good to go.
You can read more about what HDMI is and what the ports are in our HDMI explainer article. And if you don't even have enough HDMI ports on your TV, there is a way to add more.
AmazonBasics HDMI Cable – Best overall
Our top recommendation is also one of the cheapest options around – it's nice when that works out, isn't it?
The AmazonBasics range has become a firm favourite of ours across just about every product category it covers, and HDMI cables are no exception. Available in lengths from 1m up to 15m, and boasting all the necessary tech specs along with a solid (if plain) design, this is hard to beat.
Even better – if the cable isn't cheap enough for you, you can save money by buying them in bundles of two or three – ideal for updating your whole setup, or just grabbing some spares.
Syncwire HDMI Cable – Most Durable
If you don't quite trust your AV setup to a cable with 'basics' in the name, this offering from Syncwire is worth a look. The price is higher than Amazon's, but that's partly because the shortest option is 1.5m rather than 0.9m.
The tech specs are exactly the same, but Syncwire does boast that the cable can survive being bent over 3,000 times, so it should win when it comes to durability. It's available in lengths up to 3m, but that should be plenty for most setups.
Belkin High Speed HDMI Cable – Best value
Another offering if you're more inclined to trust your cabling to a big brand – Belkin makes a number of reliable tech accessories, so an HDMI cable isn't much of a stretch for them.
The cable supports 4K, though Belkin also offers an ultra high speed version that costs a lot more. As we said above, we wouldn't really recommend spending the extra money for that, but the option's there if you're committed to future-proofing.
The US model is slightly different, but it should get you the same results.
UGreen 90-Degree HDMI Cable – Best for tight spaces
And now for something completely (well, a little) different. This HDMI cable from UGreen has one right-angled plug, perfect for connecting up appliances in odd spots or with limited clearance from your wall or TV cabinet.
Watch out for older 10.2Gbps versions of this cable and ensure you're getting the 18Gbps one. The 10.2Gbps version will handle any HD content very comfortably, and 4K up to 30fps, but might struggle with higher frame rate 4K or any 4K HDR.
True HQ Ultra High Speed HDMI Cable – Best for speed
True HQ is a UK-based company which is among the first to offer a HDMI 2.1 cable that's certified by hdmi.org.
And being certified means you're guaranteed 8K at 60Hz, and 4K at 120Hz thanks to that 48Gbps data rate. (It also means support for all the other HDMI 2.1 features, such as VRR, QFT, ALLM, QMS and eARC.)
The cable itself looks and feels suitably premium with silver aluminium alloy heads, 24K gold plated connectors and a double braided jacket. True HQ also offers a two-year warranty.
It wasn't available on Amazon US when we checked.
Monster HDMI cable with built-in LED light – Best Design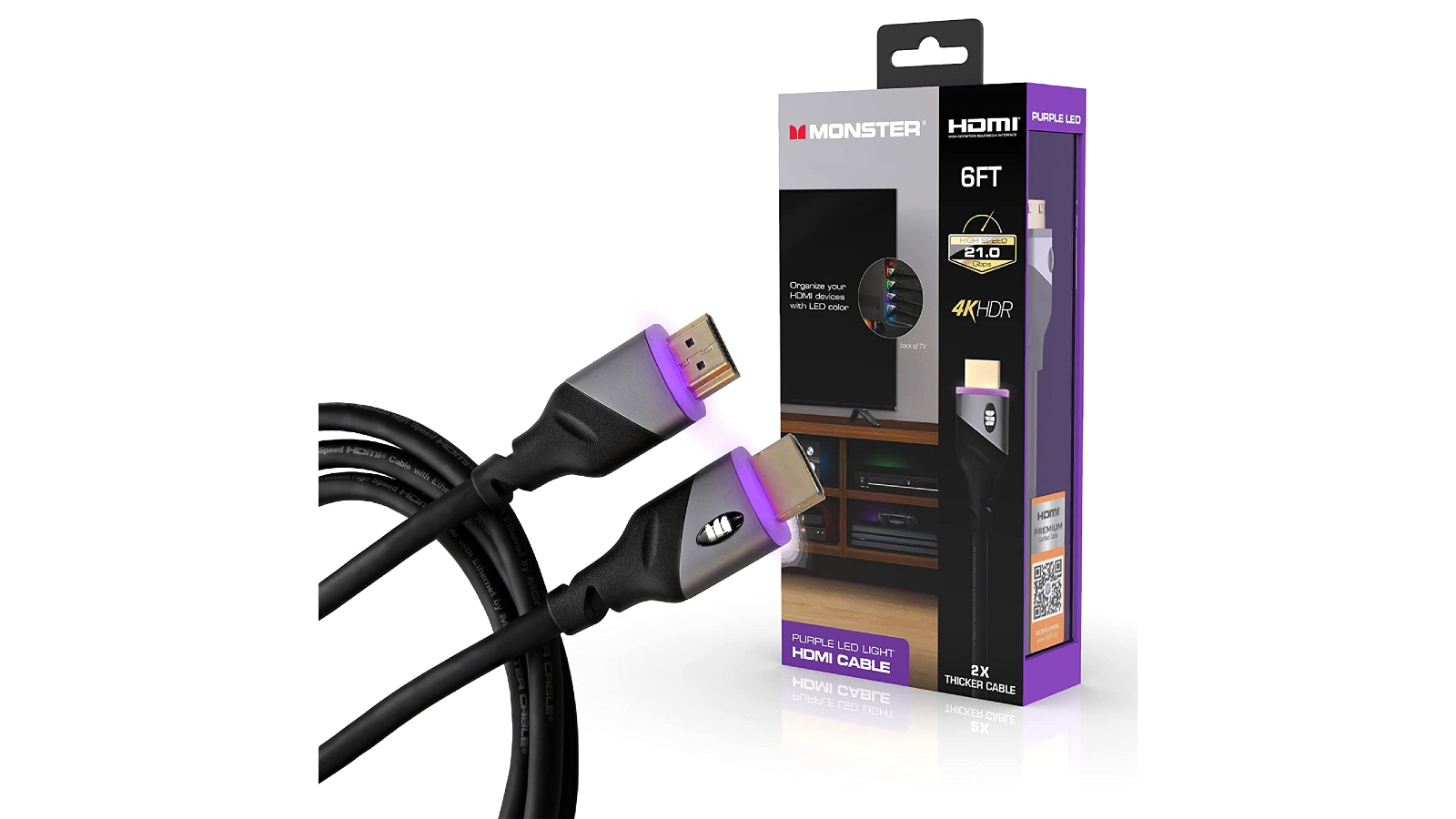 The Spotlight cable from Monster is designed for those of us stuck with a mess of multiple HDMI cables round the back of the TV and consequently struggle to tell them apart.
Each end of the cable includes a small LED, which illuminates when you plug it in to a working port, so at a glance you can tell which what's plugged in where – ideal for troubleshooting problems or de-tangling messy setups.
Beyond that slight gimmick, this is otherwise a well built HDMI 2.0 cable, rated up to 18Gbps and measuring 6ft in length. Monster also sells cables with green, blue and red lights to suit your preferences.
In the US, you can buy all of these on Amazon or Monster. In the UK, only the multipack of four cables is available at the time of writing, but Amazon US does deliver to the UK – just keep an eye on shipping costs.
High resolutions & high refresh rates
Video standards are continuing to change rapidly, with the recent rise of 4K and HDR already beginning to give way to 8K and beyond. Plus, refresh rates for games consoles are also beginning to go beyond the standard 60Hz, which requires yet more data to be transferred per second.
If you're still using the HDMI cable that came with the TV you bought eight years ago, it might not work at all with a 4K video source like an Xbox Series X or an Ultra-HD Blu-ray player, and if it does work, it might introduce errors in the picture. The same is true (more so) for HDR.
Luckily, this is easy to test – just connect everything up with your cable and check if your TV gets a signal, recognises it as 4K and/or HDR, and displays it without any obvious problems. If it does, you're good to go. If not, you'll have to buy a new one.
HDMI 2.1
Although we've talked about the standards, it's worth knowing the version numbers actually apply to devices – TVs and video sources – and not the cables themselves. What really matters is the cable's speed capacity – look out for anything rated for 18Gbps to keep up with 4K HDR, which should be just about any cable sold as 'high speed'.
HDMI 2.1 cables support 48Gbps 'ultra high speed' which is intended to support 8K video (and up to 10K), but it'll be a couple of years at least before there are widespread compatible devices.
However, there are features such as variable refresh rate and eARC as well as 4K video at 120Hz which also require an HDMI 2.1 cable. The PS5, Xbox Series X and certain LG 4K OLED TVs support HDMI 2.1, but you'll only benefit from getting a cable that supports the latest standard if you have both a console and TV that support those features.
So unless you specifically need one, don't pay extra for a 48Gbps cable right now.